The meaning of life  ~lessons one to four
Okay, so the title may be a bit grandiose, but recently I've found a great teacher. Furthermore, my teacher only needs body language to teach. Now how clever is that?

No doubt you will have guessed by now that my teacher is our adopted family dog, Spike
. In the beginning, Spike worried about working with such a moron, but he didn't give up. Then I realised that was lesson number one: don't give up!

The second lesson was simple: we don't need much in life to be happy: Healthy food, occasional play; regular exercise; some small feeling of achievement from time to time; lots of naps, and a few close friends is more or less all that's required. Everything else is just tinsel.

Spike has also reminded me of the joys of enjoyable communication. On our morning walks, we come across a wide variety of people. Naturally, people react very differently to Spike. Some are afraid of him because he's a big dog. Others obviously like dogs and want to chat. Almost without exception, the conversation is about the dog and goes something like this:

(Me) "Good morning."
"Morning."
"Great weather."
"Yes. What breed?"
"I'm British."
"No, the dog."
"Oh, he's a Golden Retriever."
"How old?"
"51 in June."
"And the dog?"
"He's 8."
"Looks healthy."
"Yes, very."

As we part company, the person usually gives me the kind of smile people reserve for crazy people who sit next to them on the bus. And therein lies the fourth lesson and most important lesson:

If you want to avoid crazy people, don't take the bus.

So if anyone wants to learn a few of life's secrets from Spike, he's available for his usual fee.

One large bone and a tummy rub.

Why work for less?




Spike cooling off in Muromi River.





ACE English

はこちら。
ご質問・お問い合わせはメールにて大絶賛受付中
info@aceenglish1995.com


ブログランキング参加中
 ACEはいったい何位

ランキングが気になる方はこちら

Thanks a lot for your kind support
A star in the making
In January, ACE started an online booking system tailor-made for the school by Mariko Moribe, one of our level-4 students. Mariko is a true self-starter. After several years experience working for another computer systems company, Mariko set up her own company 5 years ago and uses her expertise to utilize technology to solve business problems.

As our student, Mariko had obviously noticed that technologically-speaking, I am a dinosaur. Of course, she was far too polite to mention that, but when she offered to help us computerize our class reservation system, I was delighted. Finally, I could fulfill one of my dreams. I could become digital man!



Mariko, computer expert with her future yakitori

Well, not exactly. This is top secret (and I know it will come as a shock), but I haven't got a clue how our new system actually works. Fortunately, I have more digitally-minded staff who seem (or at least pretend) to understand the system. Of course, never one to miss an opportunity, F-chan said she's prepared to teach me how to use the new system (so I can look good in front of the students) if I double her salary.

Fat chance.

Of course, there were some problems when the system first went "live" but Mariko worked tirelessly (and until the early hours of the morning for a few days) to iron out the early glitches. Within a very short time, the system was running smoothly and our students can now reserve their classes 24/7. Better still, I can now fire at least two of the staff because I don't need them anymore


As well as helping to reduce personnel costs, I was very impressed with Mariko's professionalism and clear-thinking approach to solving our problems. She added a tremendous amount of value to our first basic ideas and proved herself to be a very talented thinker. In my candid opinion, this is a lady with a very bright future.

So, if you need a fabulous computer system from a great thinker, call me!

I'll tell you Mariko's phone number.

For my usual fee



ACE English はこちら。
ご質問・お問い合わせはメールにて大絶賛受付中
info@aceenglish1995.com


ブログランキング参加中
 ACEはいったい何位

ランキングが気になる方はこちら

Thanks a lot for your kind support
Happy New Year! (Well maybe…)
As we all know, every year brings both good and bad. The good is otoshidama and the bad is having to clean the house properly before the mother-in-law comes over. Actually, rather than New Year celebrations, I prefer the Japanese year-end concept of the bonenkai party: "Forget all the bad things that happened in the last 12 months!" Now that is practical thinking. So, in the New Year we should simply reverse the bonenkai philosophy and apply it proactively to the next 12 months instead: "I'm going to forget all the bad things that happen to me this year and only remember the good things!"

But forgetting is a fickle friend. Some things are easy to forget (how many kilograms I weighed this morning, and the mother-in-law's birthday are good examples) while others are trickier to put out of your mind (the time I should have helped someone but I didn't, or when I failed that all-important exam). But the most difficult thing to forget (and to forgive) is when someone wrongs us in some way. Even if the offence is slight, we remember it forever. Perhaps that's where the bonenkai concept works best: as a way of forgiving – or at the very least forgetting – such incidents and putting them in the past, where they belong. (Very easy to say, but much more difficult to do.)

I have also read that "gratitude" is the shortest-lived emotion (2 minutes?). When someone does something good for us (in contrast to when they wrong us) we quickly forget their kindness. So perhaps we should start the New Year with two resolutions:

1. Forget all the bad things that happen this year as quickly as possible (drinking sake helps a lot with this
).

And

2. Make a lot more effort to remember the good things that come our way (drinking sake helps a lot with this! Er…well, perhaps not).

So, with my resolutions decided, it just remains for me to wish all of you:

A Happy New Year!

Well, maybe…



ACE English はこちら。
ご質問・お問い合わせはメールにて大絶賛受付中
info@aceenglish1995.com


ブログランキング参加中
 ACEはいったい何位

ランキングが気になる方はこちら

Thanks a lot for your kind support
How to run a successful English school – part IV: hiring Japanese staff
After several hit and miss experiences hiring Japanese staff by interview (something I seem to be particularly bad at) in the early years of ACE, I decided to try hiring from among our students. This has turned out to be one of my better decisions and our present Japanese staff members were students at the school prior to being employed.

So, what are the advantages of hiring from among our students?

Firstly, we can see a student's character in a natural setting when they are not thinking about becoming an ACE employee. Secondly, we can see how well they get along with other students and staff members. We also know their true English ability and we often understand something about their background and general attitude towards work.

All of these things are very difficult to discover in an interview. That's because everyone lies – or at the very least exaggerates – at interviews. Interviews are like court cases; they're a game. And the aim of most games is to win – by guile, cunning, subterfuge, and/or lies. Hence, interviews are fraught with danger (for both sides).

From the student's perspective, they already know the people they'll be working with, the size of the organization, the general atmosphere, the school system, and more importantly the weak points of the school. This last point is invaluable because it means the new employee can offer fresh insights into how the school can be improved.

So, does hiring our students mean we end up with absolutely fabulous staff? Unfortunately, not always. But more often than not, hiring someone you know something about is much better than hiring someone after only one interview.

As the old English saying goes: Better the devil you know than the devil you don't.

Well, in theory anyway.

Three devils



ACE English はこちら
ご質問・お問い合わせはメールにて大絶賛受付中
info@aceenglish1995.com



ブログランキング参加中
 ACEはいったい何位

ランキングが気になる方はこちら

Thanks a lot for your kind support
Reality check
Turning fifty this year really made me think about my future. And I realized something serious: it's too short! Since life passes so quickly (unless you live in Munakata Village) it's important to think about what to do in old age. Where should I retire to? Bali Island? Thailand? Futsukaichi Onsen? Decisions, decisions.

Well, it would be a decision if I had any money of course. But reality is harsh. Having very little cash means I probably won't be able to retire at all (according to my wife at least). However, I guess I might not have many English students when I'm too old and weak to get the pen tops off my whiteboard markers. So, it seems I may soon be forced to look for alternative employment.

When I want to think deeply about something (a very rare occurrence) I sometimes go for a long scooter ride in the countryside. The open spaces, general greenery, and numerous mosquito bites seem to stimulate those parts of my brain which are usually floating in beer. There's also the added nervousness of wondering whether my 14-year-old scooter (and in human years that's about a hundred and fifty) will actually make it back to my house again.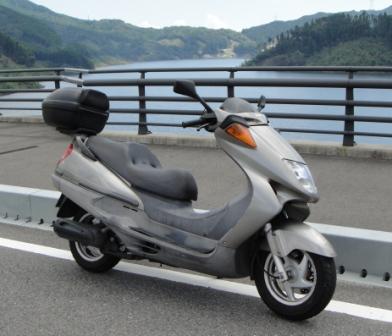 150-year-old scooter

It was on one such ride, when I was pondering my future job prospects, that something caught my eye in a rice field. It seems local farmers have trouble keeping hungry birds from eating their crops, so one enterprising farmer had created a fabulous "high-tech" scarecrow – equipped with a DVD, naturally.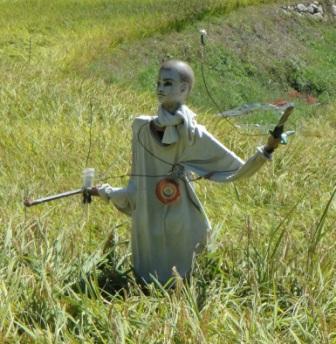 My future job

It then occurred to me that I already have a DVD and the right hairstyle, so all I need to do is to practice freeze-frame Radio Taiso, dig out my old vests and underpants for a uniform, and buy a shotgun from the local yakuza for shooting the birds. Not only would I get to work in the countryside, but I'd give those pesky little birds a reality check, too.

So, if you see me standing in a field in my old underpants with a shotgun under my arm, don't forget to stop by and say hello.

And, in return, I'll give you a couple of birds to take home for dinner. (Don't forget to take the lead out of them before cooking)



ACE English はこちら
ご質問・お問い合わせはメールにて大絶賛受付中
info@aceenglish1995.com



ブログランキング参加中
 ACEはいったい何位

ランキングが気になる方はこちら

Thanks a lot for your kind support
プロフィール

Author:ACE English
福岡市天神地区の英会話
スクール・ACE English。
たくさんの生徒さんに
支えられて、おかげさまで
今年24歳になりました。

「HPだけじゃ伝えきれない
ACEのウラの顔をタレ込みたい!」
というスタッフの願望から、
スタートしたこのブログ。

日本一おもしろい(?)
スクールブログを目指しています。
QRコード